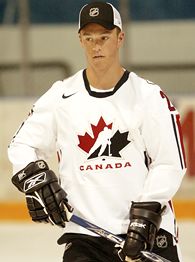 1. Niklas Backstrom, WSH
2. Lee Stempniak, StL
3. Jiri Hudler, DET
4. Alexander Steen, TOR
5. Drew Strafford, BUF
6. Andrew Ladd, CAR
7. Jonathan Toews, CHI
8. Gilbert Brule, CLB
9. Scottie Upshall, PHI
10. Phil Kessel, BOS

I'm not sure if you'd call Steen or Kessel 'sleepers' so to speak, but they're sure to be drafted - and late. Backstrom or Toews will be the first of the rest to go. Backstrom especially will recieve attention from the keeners of the league. Analyze the hockey knowledge of the other players in your league - it will tell you how long you can wait before drafting one of these guys.